Q. What is the location of the Deke Slayton Airfest?
A. The La Crosse Regional Airport. Follow signs and parking attendants for parking as you reach the vicinity of the La Crosse Regional Airport.
Q. Is the Airshow the same both Saturday and Sunday?
A. Yes. Performances are normally the same each day! Scheduled events, performers, teams & activities are subject to cancel and/or change without prior notice — weather, mechanical, or medical issues may force a team and/or performer to adjust and/or cancel their performance. Any performer cancelation does not qualify as a show cancellation and/or ticket refund. ALL TICKETING SALES ARE FINAL!
Q. Will I need to purchase a ticket for everyone in my vehicle?
A. No, only one Car Pod Pass (ticket) is needed per vehicle. No individual admission tickets required.
Q. May I purchase a ticket onsite the day of show?
A. Tickets cannot be purchased onsite day of show but tickets can be purchased online the day of the show at www.airfest.com. Car Pod Pass purchases must be completed before entering the gates to the airshow. Must have QR code ready to be scanned upon entry at gate.
Q. Is there a limit to how many people can join me in my vehicle?
A. Vehicles should be limited to six people for social distancing purposes or based on the number of manufactured seatbelts installed. This is for safety reasons, as well as for your groups viewing enjoyment. The drive-in format offers an amazing opportunity to fill your car with the people that you are comfortable being with in a close proximity space.
Q. May I cancel or receive a refund for my tickets?
A. No. Once purchased, there are no refunds.
All Tickets Non-Refundable & No Rain Date
Q. Will I have space outside of my vehicle for tailgating?
A. Yes. Each Car Pod will have space roughly about the size of your vehicle for tailgating next to your car.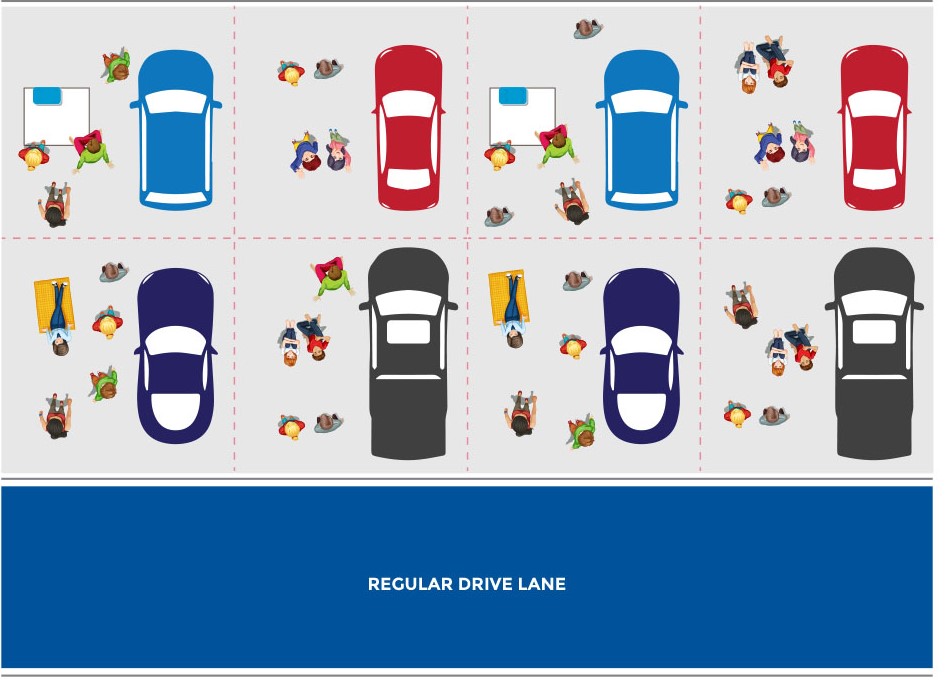 Q. What if my vehicle is Oversized?
A. Vehicles over 25' in length cannot be accommodated to insure maximum viewing for all guests. RV's are not allowed.
Q. Is there an Exit Plan once the show is over?
A. Based on where you are parked please follow the exit directions.
Q. Is General Aviation Fly-In available this year?
A. Yes, please email info@airfest.com for more information.
Q. Will the Drive-in take place if it rains?
A. Should it rain, performance times may be adjusted and/or the performers may modify their ceiling levels to work around weather. However, in the case of severe weather, you will be notified via Loudspeakers to remain in your vehicle until the show is cleared to re-start. All tickets are non-refundable and no rain date.
Q. Where can I find a Schedule of Events?
A. A list of performers is available on our website at www.airfest.com. Program books outlining the performers will be available at the show. The Blue Angels fly the last act of the day. The schedule will not be posted as it changes due to airline traffic and weather. The show will start around Noon and end around 4:00 pm both days.
Q. When should I arrive onsite?
A. Airport entry gates will open at 9:00 AM, approximately 3-hours prior to the event start time. Parking is first come, first serve. Remember the show is in the sky so every spot is a great spot!
Q. How will I be checked-in?
A. Car Pod Passes will be scanned upon arrival. To expedite this process, please have your ticket ready either printed or ready on your phone. Must have QR Code ready to be scanned. Parking staff will guide you to the next available parking spot.
Q. Can I pick my own spot?
A. Unfortunately, with hundreds of cars, that's not practical. It would create severe traffic issues. We cannot reserve a specific parking space.
Q. Do I have to stay in my private viewing area the whole time?
A. Due to Covid-19 restrictions and requirements in the county at this time, we request you stay in your own tailgate area unless going to the porta potty facilities or food trucks / pop tents. We will monitor Covid-19 restrictions and requirements and will make adjustments as conditions change.
Q. Are Pets Allowed?
A. Pets are NOT allowed within the air show venue. (Service Animals are admitted with hosts). All service animals must be on leash and under control at all times.
Q. What items may I bring for my Private Viewing Area?
A. The following items ARE ALLOWED:
Tables and Chairs
Chair Umbrellas
Coolers to include Food & Beverage
Service Animals are allowed with hosts but must be leashed.
A. The following items ARE PROHIBITED:
Tents & Umbrellas that requiring being staked into the ground.
Grills of any type, no open fires
Drones
Generators
Animals
Narcotics/Weapons
Golf Carts, ATV's, Bikes, Skates, Skateboards, Roller Blades
Q.  May I bring my own drinks and snacks to the Airshow?
A.  Yes, you can bring in your own food and beverage. All local laws regarding consumption of alcohol will be in effect. There will be Trash containers throughout the parking rows, please be courteous and use them for your waste. Depending on La Crosse County Health Department guidelines for Covid-19, food and beverage vendors may be available.
Q.  Will food trucks and soda be available?
A.  Yes, Sparky's Pit, Five Star Golden Egg Roll, Cattleman's, Rose's Food Truck and Pepsi products will be available for sale on site. Vendors will only accept cash but an ATM will be available on the grounds.
Q. Will there be restrooms?
A. Clean and sanitized Porta Potty's, as well as Wash Stations will be located throughout the parking areas, as well as Accessible Units.
Q. Will smoking be allowed in your private viewing area?
A. No smoking permitted anywhere on airport property.
Q. May I keep my car engine on throughout the Airshow?
A. Car engines and headlights should be turned off during the Airshow. Minimum engine use please during the event. If you experience any car troubles, please stop a security officer or parking attendant for assistance.
Q. Can I play music?
A. No loud music, please — don't disturb people nearby who want to enjoy the show.
Q. How will I be able to listen to the Airshow?
A. Show speakers will be positioned throughout the venue.
Q. Will we be able to buy souvenirs?
A. No souvenir vendors will be on site this year.
Q. Are Masks required?
A. Airfest has been granted an exemption to the TSA Mask Mandate (TSA Security Directive SD 1542-21-0lA). Masks are NOT required on Airfest grounds.
Q. What if I need to leave prior to the end of the Airshow?
A. Please notify a parking attendant or security officer before moving your vehicle.
Q. Where can I find information on Hotels, Restaurants & Local Attractions?
A. Please visit www.explorelacrosse.com for information regarding hotels, restaurants and local attractions in the greater La Crosse area.
Q. How can I receive the latest updates about the Airshow?
A. Receive updates and current information by visiting our website at www.airfest.com.